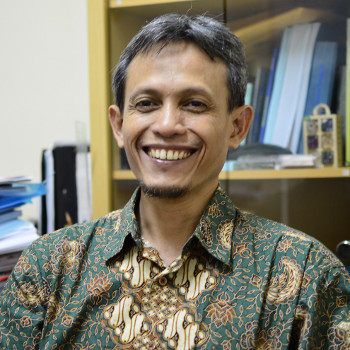 Indah Permata Sari, Syamsu Rosid, and Eko Widianto, A Comparison of Filtering Method for Regional and Residual Field Separation from Bouguer Anomaly, Proceedings of 6th  Kentingan Physics Forum, International Conference on Physics and Its Applications (ICOPIA), 3 Oct. 2012, UNS Solo, p. 241-250.
Syamsu Rosid, The Seismoelectric Method to Map Changes in Salinity and Hydraulic Permeability, Prosiding PIT HAGI ke 37, Palembang, 10-13 September 2012.
Syamsu Rosid, Ramadoni N. Koesnodo dan Prabowo, Estimasi Aliran Air Lindi TPA Bantar Gebang Bekasi Menggunakan  Metoda SP, Jurnal Fisika, Universitas Negeri Semarang, hlm. 1-5 (2011).
Syamsu Rosid, dan Ramadoni N. Koesnodo, Deteksi Pencemaran Air Lindi di Desa Taman Rahayu, Bekasi dengan Metode Geolistrik Wenner-Schlumberger, Prosiding Seminar Nasional Fisika Universitas Andalas 2011 (SNFUA 2011), Jurusan Fisika Unand, Padang, 15 Oktober 2011.
Syamsu Rosid dan Benny Irawan, Aplikasi Transformasi Hartley pada Analisa Kontinuasi Data Gravitasi dan Geomagnet, Prosiding Seminar Nasional HFI 2011, Universitas Soedirman, Purwokerto, 9 April 2011.
Syamsu Rosid, dan Evy Rosa, Fault Determination Using Gravity Anomaly Data Singkarak Area, West Sumatra, Proceeding of 2nd Basic Science International Conference, FMIPA-UB, Malang, 24-25 Februari 2012.
Supriyanto Suparno, YunusDaud, Syamsu Rosid, DedeDjuhana, Yayan Sofyan, New Interpretation of DC Resistivity Data in the Sibayak Geothermal Field, Indonesia, Proceedings of the World Geothermal Congress, 2010.