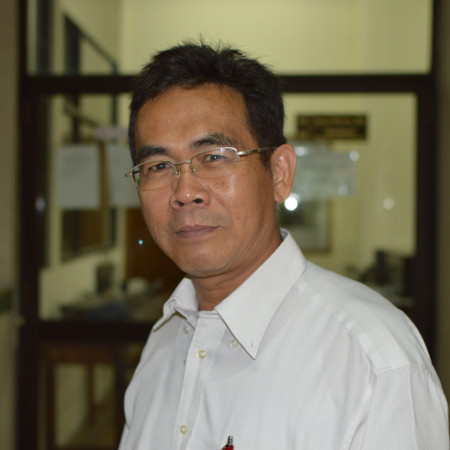 Dr. Sastra Kusuma Wijaya is one of the lecturers in the Department of Physics, University of Indonesia. His expertise is Electronics Intrumentation. He was born in Jakarta on November 26, 1958. He received his Ph.D. from Okayama Univfersity, Japan, in the field of the Natural Sciences & Engineering, with a title of dissertation: Mechanical Mobility Technique for Stability and Geometry Assessment of Dental Implant. He has also a strong interest in the Biomedics Instrumentation.
Besides actively working as an educator, he also joins to train and manage the Physics Olympiad Team, especially in the experimental discussion, which is one important aspect of the assessment at the International Physics Olympiad. He has also written a number of papers in international journals such as the IEEE Journal.
Dr. Sastra Kusuma Wijaya has received several awards such as "The Best Paper Award in the Proc. of the 9th Scientific Meeting of the Indonesian Student Asscosiation," Tokyo, Japan (2001)  as well as "The Outstanding Paper Award in the Proc. ICBME ", Singapore (2002).
[See publication in Scopus]

Wijaya, S.K., Oka, H., Saratani, K., Sumikawa, T., Kawazoe, T., Development of implant movement checker for determining dental implant stability, Medical Engineering and Physics 26, 513-522 (2004).
Wijaya, S.K., Sumikawa, T., Saratani, K., Kawazoe, T., Oka, H., Development of dental implant movement (IM) checker for dental implant mobility assessment, Technology and Health Care 12, 11-23 (2004).
K. Saratani, H.Oka, S.K.Wijaya, T.Fujii, N.Ueda and T. Kawazoe, Development and Clinical Trials of a Dental Implant Movement Checker, Journal of Dental Research 81, 473 (2002).
Wijaya S.K.,  Oka H., Saratani K., Matsutani Y., Tatsuta M., Kawazoe T., Kojima H., Development of Microcontroller-Based System for Dental Implantation Assessment. Part 2. Typical Artificial Implant Model, IEIC Technical Report 101, 117-122 (2001).
W. M. K. P. Wijekoon, S. K. Wijaya, J. D. Bhawalkar, P. N. Prasad, Second Harmonic Generation in Multilayer Langmuir-Blodgett, Journal of American Chemical Society 118, 4480-4483 (1996).