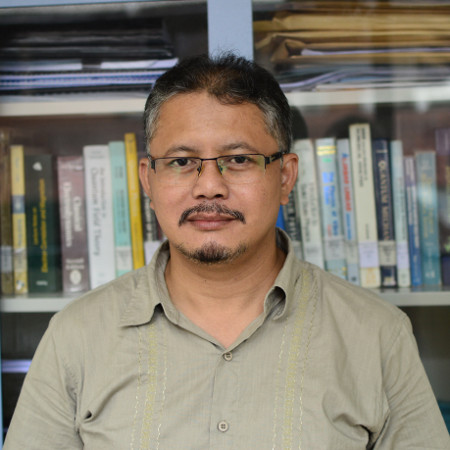 BIOGRAPHICAL SKETCH:
Muhammad Aziz Majidi received a Sarjana degree (equivalent to B.Sc. plus) in physics in 1993 from University of Indonesia Department of Physics, and a master's degree in 1997, in the same field from the same department. Further, he was selected to participate in the Diploma Programme on Condensed Matter Physics held by ICTP, in Trieste, Italy (1997-1998). He received his Ph.D. degree from the Physics Department, University of Cincinnati, USA, in 2006, with a dissertation entitled Computational Studies of Ferromagnetism in Strongly Correlated Electronic Systems (under advisory of Prof. Mark Jarrell). Before returning to Indonesia, he had worked as a postdoctoral research associate (2006-2008) at Physics Dept. of University of North Dakota, USA (under supervision of Prof. Juana Moreno).
Dr. Majidi is a member of the Condensed-Matter Physics group and his field of interest is Theoretical-Computational Condensed Matter Physics. His research focuses on modeling of strongly-correlated systems such as manganites, cuprates, and dilute magnetic semiconductors, and recently, also graphene, to predict their thermodynamic, transport, and optical properties. In most of his research, he employs the method of Dynamical Mean Field Theory (DMFT) and its extentions. In addition, recently, he has also started developing algorithmic implementions of Feynman diagrammatic – based techniques, such as GW and Ladder Diagram approximations, to study effects of electron-electron and electron-hole interactions revealed in optical responses of strongly-correlated systems. Since the past few years, his research has mainly been in collaboration with Dr. Andrivo Rusydi'sresearch group of the Department of Physics, National University of Singapore (NUS).
Undergraduate courses: General Physics, Classical Mechanics, Quantum Mechanics, Solid State Physics, Thermodynamics, Statistical Mechanics, Computational Physics.
Graduate courses: Graduate Quantum Mechanics, Solid State Physics, Advanced Solid State Physics, Selected Topics in Condensed Matter Physics.
Doctorate Degree
Current Students:
Listiana Satiawati, Modeling and calculations within the Dynamical Mean Field Theory for the temperature-dependent magnetic and transport properties of layered manganite systems exhibiting orbital, charge, and spin orderings (in progress).
Master degree
Undergraduate degree
Note:
Most student projects are intended for publications in journals or proceedings. However, depending on the situation, a student project may require an extended work after the student's graduation before it becomes ready for a publication.